B.I.G. Awards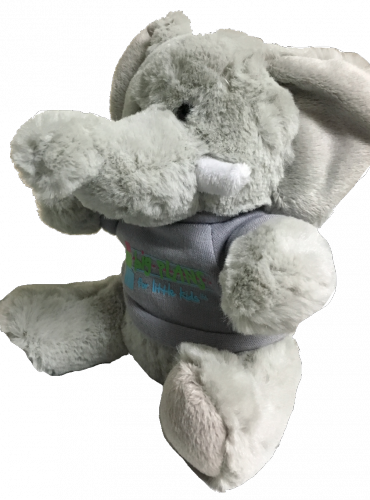 Every month, we are privileged to recognize the demonstration of Brilliance, Inspiration, and Greatness (B.I.G.) of the individuals we work with. These qualities are evident through their work with our teams, families, and schools. Visit this page each month to read about our remarkable team!
Would you like to nominate someone for the B.I.G. Award? Email your nomination(s) to Lori before the last day of each month for the following month's awards. Please include the name of the person, their role, and tell us why they deserve the B.I.G. Award. Those who are nominated for the B.I.G. award will demonstrate "Brilliance, Inspiration, and Greatness" (B.I.G.) through the work that they do on our teams, with our families, and in our schools.
Each nominee will also have their name entered into our monthly B.I.G. awards draw for B.I.G. (our Big PLANS Stuffed Elephant). If a nominee's name is not drawn, it will continue to remain entered in the monthly draw until we draw our final name in June!
The winner of the November draw for B.I.G. is Wendy Gundersen! Congratulations!
November 2017 B.I.G. Awards
Esther Carras - Child Development Specialist & ELL Therapist, FSCD Common Approach Team
Esther Carras was nominated in November for her incredible work with Big PLANS. "Brilliance, Inspiration and Greatness"-three words that embody who Esther Carras truly is. Esther's work is "brilliant", whether it's as a CDS in the classroom, as an FSCD worker in the home or as an ELL therapist. She is creative, positive and enthusiastic in her approach with all the children she is involved with. The families and the children who are fortunate enough to have her in their lives continue to be grateful for her involvement. Esther expects "greatness" from herself but she also "inspires greatness" in other. She readily shares her wealth of materials and knowledge with her colleagues, always offering to mentor those who are new to Big PLANS. She is a team player and a collaborator, "inspiring" others to work together to be the best that they can be. Esther is one of the most positive people I know and her encouragement and genuine interest in others, whether they are her co-workers or the children she "inspires" is nothing short of "brilliant." Thank you for your Brilliance, Inspiration and Greatness Esther!
Being raised speaking Dutch and struggling to learn English as a little girl, Esther finds that she can easily relate to the ELL students she now works with. She still remembers how challenging it was to try to decipher between the languages and how scared she was to make a mistake. Esther is very passionate about her work with kids with behavioral struggles and needs, and those that require ELL support. Not only does she find it very rewarding to watch these children overcome challenging obstacles and accomplish small tasks, but she also considers it a very special privilege to walk alongside these children as they grow and change throughout the year.
Raised in Prince George, BC, Esther has worked with kids since the young age of 12, when she began babysitting. This continued through her teen years as she learned to micro-manage taking care of five kids under the age of six, while her friends were busy "hanging out". After having two amazing girls of her own, she decided to stay home with them and open her own day home. At the same time, Esther took in at least three foreign exchange students at a time. The house was always buzzing with excitement and still is today, with her daughters Kaitlyn (13), Avalon (11) and four cats (Annabelle, Cookie, Oreo, and Princess Buttons). Esther has been happily remarried for two years to Steve who works at the science centre and she loves the extra life he brings to their home. Steve can be a big kid himself!
After moving to Calgary as a single mom, Esther began working part-time as an Aide at her daughter's school and was soon introduced to Big PLANS. She joined the team as a Child Development Specialist in November 2013. Highly organized and a multi-tasker at heart, Esther enjoys a challenge and has fun finding creative solutions to problems. Her passion is evident and now in her fifth year with Big PLANS, Esther still cannot believe she gets paid to do the job she loves!
Popcorn is her favorite food group and Esther enjoys her COFFEE with real cream. She would even sacrifice cookies to have cream in her coffee! When she isn't busy working, Esther loves to cheer on her girls as they play sports (Kaitlyn plays volleyball both girls play basketball), read, spend time with her family playing games or having movie nights, volunteer at her girl's school and the youth drop-in centre (which has grown from 10 kids to over 50 some days) and re-purpose recyclable items (i.e. she turns old peanut butter jars, yogurt lids and more into fun activities for the kids she works with). Esther loves being creative and finding ways to save money. In fact, she has been cutting her own hair for six years now and has come to the conclusion that You Tube can teach her anything!
Shannon Kushniruk – Big PLANS Speech-Language Pathologist
Shannon was nominated in November as a fantastic team player who put an incredible amount of time into doing the best job she can. Not only does Shannon excel in organization, thoroughness, and attention to detail, but she is thoughtful about each child she sees and never presents cut and paste ideas, goals or strategies. Shannon always checks back to "what is the best plan for this child?" and continually adjusts accordingly. Thank you for your Brilliance, Inspiration, and Greatness!
"My mom always said that life is short and you should spend your days doing all the things that you love and that make you happy." Shannon really took these words her mom said to heart, and she feels fortunate to be in a career where she is truly excited to go to work every day. Shannon wanted to become an SLP as long as she can remember. Growing up watching her mom run a private SLP practice in Red Deer, Shannon had the opportunity to watch her work, and help out with some of her clients in various capacities. This only further developed Shannon's passion for Speech Pathology. Shannon received her Bachelor of Education from University of Alberta, working as a CDS with a number of children who had Autism. She then went on to earn her Master of Science in Speech Language Pathology from University of Utah. Currently, Shannon is a Registered Speech Language Pathologist in Alberta and Certified Member of Speech-Language and Audiology Canada. In the spring of 2016, Shannon was looking for a change and a colleague recommended working with Big PLANS. Sharing the same beliefs about early intervention and therapy styles as Big PLANS, Shannon was thrilled to join the team in April 2016. Her Education Degree has been an asset to the organization, allowing Shannon to work effectively with teachers and come up with creative ways to support children in the classroom. Her interpersonal skills have enabled Shannon to collaborate effectively with others, and develop positive relationships with families.
Working as an SLP for the past five and a half years, Shannon admits the most exciting part of her job is seeing children and families succeed. The most rewarding moments are when she is able to watch a child do something new that they couldn't do before, as well as sharing smiles and giggles with kids as they play and learn together. Shannon appreciates being able to experience the world through the eyes of the children she works with, as well as having the opportunity to learn from colleagues who are equally as passionate about helping children and families.
When she is not working, you can usually find Shannon at a yoga class, one of her favourite activities outside of work. She also enjoys spending time with her family and dog (miniature poodle mix that she rescued in July 2012), good food (especially perogies and pizza), wine, country music, and getting out to the mountains to hike, camp, and enjoy the outdoors. Her OT friends give her a hard time about her many sensory sensitivities, but despite that, Shannon is willing to try some new things. She once tried to learn how to ride a unicycle (but it ended in a chipped tooth!) and has completed both a half and full marathon (June 2015). Recently married to Brandan in October 2016, Shannon is excited to announce that they are expecting their first child due in April 2018!
October 2017 B.I.G. Awards
Heather Kinahan- Educational Coordinator
Heather was nominated in October for going above and beyond for her team, which includes her making them lunch and helping them figure out the new iPads! Heather is very approachable, easy to talk to, handles everything with her usual good humor, and is always willing to help out with a smile on her face. The way Heather organizes her invoicing and notes is also amazing and makes it so much easier for the office. Thank you for your Brilliance, Inspiration and Greatness Heather!
When you first meet Heather, you are sure to be greeted with her contagious smile and warm personality. You will also discover how passionate she is in supporting those around her. Whether it is through the sharing of ideas, knowledge, and strategies; or just being there to listen, lend a hand and pass along positive feedback; Heather believes that people can all be better versions of themselves when they feel supported. Heather gives freely of her time and is truly interested in the lives of the people she meets and has the privilege of getting to know.
Heather grew up in southern Alberta in the close-knit community of Rolling Hills. It was here she witnessed first hand how a strong sense of community can help support and improve the lives of everyone involved. When she was little, it was a huge treat to get books from the public library. She remembers her mom reminding her that she needed to be good if she wanted to go to the library to get new books. Heather is quite certain she never missed a trip to the library and it was in this small, one-room library, run by community volunteers, her love of books began to grow. Heather still loves books and will confess to be addicted to buying books, especially children's books. She is happy to have a job where she can put them to good use!
Heather graduated from the University of Lethbridge in the spring of 1996 with her B.Ed. and B.Sc. and that summer married her husband, Mike. In January 1997 she began teaching grade 2 in Carstairs, where she continued to teach (grades 1 and 2) until the birth of their first child in February 2000. Heather then had the privilege of staying home to raise their three children (Tyler: 17, Riley: 15, Amber:13) before re-entering the workforce with Big PLANS in the fall of 2010. Heather is grateful for her work with Big PLANS and all the talented professionals she has been fortunate to work with along the way. She feels each year her skills grow as the direct result of the people she is surrounded by.
On weekends you will likely find Heather spending time with her family watching basketball, playing board games or just hanging out laughing and being silly together. Heather also enjoys gardening, baking, entertaining, hiking and travelling. In the fall of 2015, Heather decided to try something new and started taking acrylic painting lessons. She has discovered a new love and if a chunk of spare time presents itself, you will find her in front of a canvas painting and creating.
Lindsey Phillips - Child Development Specialist / ELL Therapist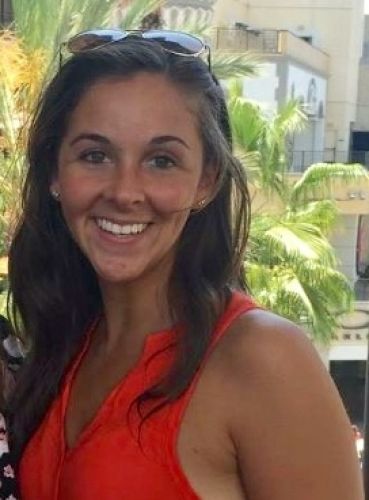 Lindsey Phillips was nominated in October for stepping up to help pilot the iPad project and for providing the office with useful feedback. In addition, she was able to do this without any actual training so put a lot of time and effort into helping develop the process. Thank you for your Brilliance, Inspiration and Greatness Lindsey!
After graduating five years ago from the University of Windsor with her Bachelors in Psychology, Lindsey left her hometown of Amherstburg, Ontario to move to Calgary. It wasn't long before she started working for Big PLANS. Although she enjoys working with everyone on the the Big PLANS teams, Lindsey is most excited to work with Occupational Therapists. In fact, Lindsey would one day like to return to school to become an OT herself! When Lindsey is not at work, she enjoys playing floor hockey three times a week (and is captain of all three teams), reading mystery/suspense books, and hiking/exploring Banff and Lake Louise. She also admits to having a huge sweet tooth with chocolate bars and cookies being her favourites! One of Lindsey's most memorable moments includes driving to California with her husband James and staying the whole summer to experience the laid-back California lifestyle. She found it amazing to wake up and spend every day on the beach! Recently married (April 2016), Lindsey and James decided to make a trip to Best Buy to look for a new TV. However, they first stopped in Petsmart, just to look around. The trip to Petsmart ended up with Lindsey and James adopting two older cats (Maurice and Griffin). They never did go to Best Buy for the new TV!
Carmen Souster - Director of Programming, Principal, and SLP for Big PLANS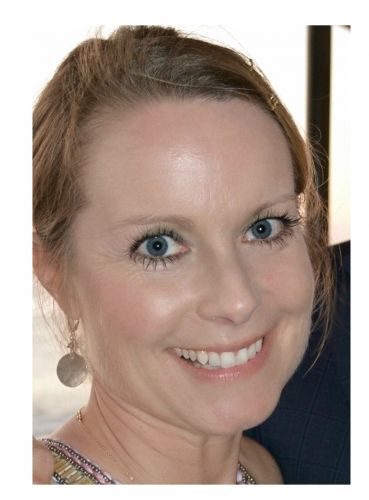 Carmen Souster was nominated in October for her work as a speech therapist. Her nominee is so thankful for all she has learned and is still learning from Carmen's speech therapy sessions. Carmen is patient, kind and knows when to "change gears," to keep the child motivated. Carmen knows what she is doing and is able to execute it perfectly. Carmen's passion for her work is evident just by watching her face when she is talking to a child or reading a book. Carmen is always happy to help, is a model speech therapist and an amazing person.
Carmen Souster grew up in a tiny farming community East of Big Valley, Alberta where she learned a lot about growing food, nature's seasons, raising animals and taking care of neighbours. Carmen went to the University of Calgary to earn her first two degrees in Linguistics and Education. She taught for almost 6 months prior to accepting a position offered in the Masters of Speech-Language Pathology program at the University of Alberta. Carmen finished the latter half of her Master's at the University of Madison, Wisconsin, where she experienced her first multi-disciplinary assessments in Autism Diagnosis. Carmen has lived in Calgary for the past 19 years and is now married with 3 wonderful girls. She works part-time as a speech-language pathologist and part-time as the Director of Big PLANS for Little Kids, Ltd.
If you were to ask Carmen what her favorite thing is about her career, she would say EVERYTHING! She loves the preschools and people she works with, she loves the constant encouragement to learn more about children's learning, and she loves the challenge of providing successful outcomes in the face of unexpected challenges. In her spare time, she loves to be outside running, especially to notice the seasons changing, she enjoys walking her dogs, she is just beginning to recognize the many benefits of regularly practicing yoga and meditation, likes reading books, playing the piano and learning to play the cello. Her most treasured moments are those spent watching her girls play sports and moments with friends and family just enjoying time together.
Wendy Gundersen - Child Development Specialist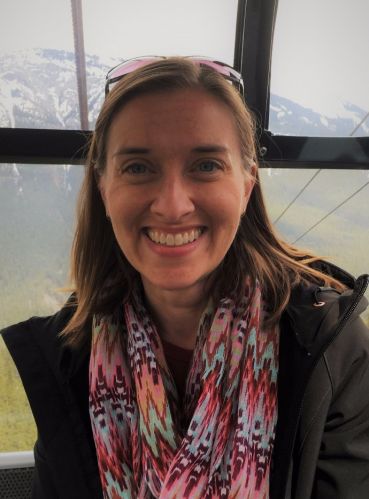 Wendy Gundersen was nominated in October for her incredible work with Big PLANS. "Brilliance, Inspiration and Greatness"-three words that epitomize Wendy Gundersen an absolutely incredible CDS with Big Plans! Wendy is "brilliant" in her work with the children at Big Plans. She is empathetic and shows a genuine concern for all the children in the classroom! Wendy exceeds all expectations in her role as CDS and consistently performs strongly in her skills and responsibilities. Wendy" inspires" children, colleagues, and parents! She has motivated her Educational Coordinator to strive for excellence and models this in all aspects in her role as a CDS and team player at Big Plans. Every child that Wendy has worked with has shown significant improvements and the families consistently express their gratitude for her commitment to excellence in her role. "Greatness comes from the desire to do extraordinary things-to reach beyond the status quo....It all starts with setting and achieving goals, but when you aim higher than where you set your mark, you force yourself to get better... This quote embodies Wendy's commitment to "greatness" and her aspirations to be just that!!
A "big kid" at heart, Wendy relates well to kids. She is passionate about letting kids know how amazing and valuable they are, as well as supporting them with their needs. Wendy loves getting to know the children she works with and makes sure they feel good about coming to school each day. Her warm smile makes everyone feel welcome and her patience allows children to feel comfortable taking time to do things on their own. Wendy grew up in Dawson Creek, BC, but left to Grande Prairie after graduating high school to spread her wings. It was meant to be, as that is where she met and married her husband, Dan. Since Dan works in oil and gas, they made the move to Calgary in September 2000 and have been here ever since. Wendy has been working with children of various ages for most of her adult life, through volunteer work in schools and at church. Although she worked in an Optometrist's office before having children, once she saw her own children in preschool she realized that she loves working with children more than anything. When both of her daughters (Laura - 13, and Amber -11) were in school full time, an opportunity arose for Wendy to work in their elementary school as an Educational Assistant in the Kindergarten class. Wendy enjoyed the year immensely. That summer, she took the Child Development Assistant Course to prepare herself for work in the school's preschool the following year, and in November 2013 joined the Big PLANS team. When she isn't at work, Wendy loves walking and hiking, especially in the woods; having coffee with friends (she would be sad to give up latte's or dark chocolate), and having BBQ's in the backyard. On her creative side, she loves art, drawing, sewing, baking, decorating cakes and exploring art galleries. Although she never used to be a big reader, she now also enjoys getting lost in a good book.
September 2017 B.I.G. Awards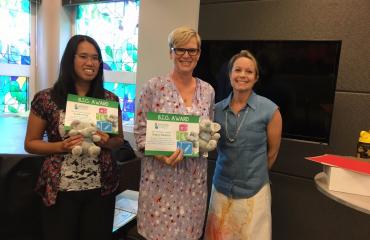 Susan Fung - Operations Manager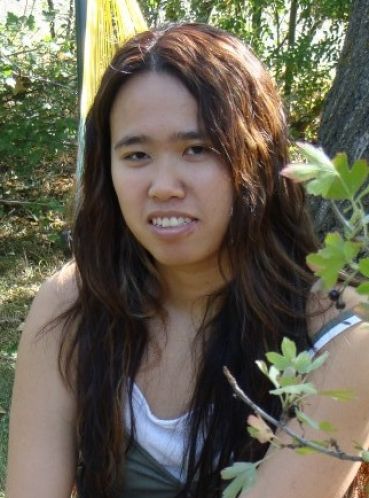 As the Big PLANS Operations Manager for the past seven years, a highlight for Susan has been watching Big PLANS expand and change to adapt to the growing needs of the company. As the "keeper & supplier of information", Susan's organizational and multi-tasking skills are a definite asset and necessity in her role at Big PLANS. In addition, anyone that has met Susan will soon realize her aptitude for information technology (IT). Technology is her passion and Susan admits that it is one she would not easily give up. Her ongoing interest in current technology definitely keeps her "on top of her game". This is evident in her ability to figure out the logistics needed to transfer Big PLANS operations to a paperless system! Growing up in High Prairie, AB, Susan left for post-secondary school and work. After receiving her BSc and BSc Kin, Susan completed an internship at Peak Power and was then referred to Big Plans for Little Kids for employment. In her spare time, Susan enjoys cycling in the summer and snowboarding in the winter. In 2009, Susan also placed 4th in a Provincial Olympic Weightlifting competition. When asked what the craziest thing is that she's done, she admits that it would be skydiving (20 jumps).
Tracy Paulson – Administrative Assistant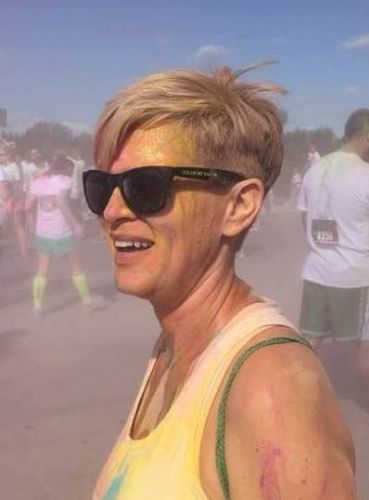 After growing up in small-town Saskatchewan (Elbow to be exact), Tracy moved with her husband Jim for his work. They moved first to BC, and then to Calgary. Now, calling Calgary home, Tracy and Jim have two daughters (Maddy – 15 and Rachel – 11), and will celebrate 23 years of marriage this November. A Business College graduate, Tracy worked in administration for many years before expanding her knowledge into accounts payable/receivable and payroll. With her payroll certificate and several classes on her resume, she moved into an accounts and payroll position, where she stayed until deciding to take time off to raise her daughters. In 2013, after ten years at home, Tracy's good friend and neighbor recommended she talk to Carmen about working in the Big PLANS office. With her innate ability to multi-task and organize, Tracy has been a valuable asset to the Big PLANS office ever since. Although she does not work directly with children, Tracy enjoys being able to contribute and make life easier for the Big PLANS professionals that do work with families. She admits that the highlight of her job is definitely the incredible people she works with!
When she is not working, Tracy is usually found watching her kids play soccer or other sports. She enjoys hikes in the mountains and camping with her family, is an avid reader and a runner (Tracy has even competed in a few races, most recently the Vulcan ½ triathlon). Some may not know this, but Tracy is a diehard Saskatchewan Roughrider fan who also loves trashy reality tv. In addition, she would find it almost impossible to give up wine, morning coffee, facebook, and lip balm (she is addicted). When asked to share one of her most memorable family moments, she describes their family trip to Puerto Vallarta last January. Since her youngest daughter, Rachel is obsessed with turtles, they went to a place where they got to release baby sea turtles into the ocean and witnessed a momma laying her eggs. Tracy said, "It was one of the most amazing things I've ever seen!" [Anchor]